Other News
Benefits to Choose China Brass Fittings for Plumbing
Views: 1420 Update Date:Feb 12 , 2018
Plumbing is the most vital need of home and commercial places to ensure proper and better water supply and flow of other liquids. In addition to this, it is also the best source for ensuring flow in pipe lines. When it comes to plumbing solutions, you need to focus on various things; while use of different tools, products and accessories is mandatory for ensuring long life and durability. Brass fitting is one of them that is the mix of zinc and copper alloy. It is the best source of ensuring durable plumbing from homes to large industrial complexes. Use of this durable and strong metal is ideal that allows you to endow safe, durable components to your plumbing system. If you are wondering how well brass works in the plumbing area, you will come to know through the benefits mentioned below:
1. Durable Life and Reliability
Brass is the most advanced and highly durable metal that is the basic need of a plumbing system for long service life. Brass fittings bring you something advanced that is an excellent choice as they remain in great condition for years without cracking or disintegrating. It also provides the best possible performance in hot water supply lines
2. Corrosion Resistance
Corrosion issues are very common with metal fittings; but brass is different as it is corrosion resistance that makes it an ideal option to choose for plumbing. There is no denying the fact that corrosion and rust can cause serious wear and tear on metal fittings. Brass is the metal that don't rusts or corrode in poor water pH conditions.
3. High Temperature Tolerance
Brass is the best fitting material for hot water distribution as it provides exceptional conductivity of temperature and improves hot water distribution system efficiency. Brass is also ductile in high temperature that can withstand much higher temperatures in comparison to other options.
4. Versatility at Its Best
Brass fittings factory offers the premium quality brass that used for many different purposes. In this way, you can get the fittings you need in a wide range of shape, widths and sizes with fittings available to allow you to alter pipe size. For those areas where project need strict specification, brass fulfills the demand. This metal is finished in a variety of ways. It is used for polished, plated in chrome, lacquered or for nickel or antique finish.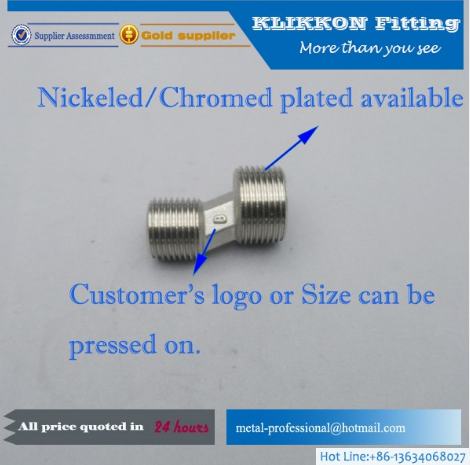 Now, what is more important than anything else is to find the right brass fitting manufacturer who brings the best quality solutions and metals. Online search will take you to the right supplier and top brass fitting factory. You could choose Klikkon Industrial Co.,Ltd. that is convenient for you, go through the details and place your order accordingly. So, what you are waiting for? Feel free to contact as per your requirement:
Email: libin@klikkon.cn
Mob:+86-13634068027 (24hours service)
Phone/Fax:+86-0576-87467185