Other News
Klikkon week news about metals
Views: 1628 Update Date:Sep 11 , 2017
Core Tip: LME will be on October 1 down from the short-term transaction costs, and to seek to use LME offer investment bank charges. Canada found high grade copper and cobalt gold mine.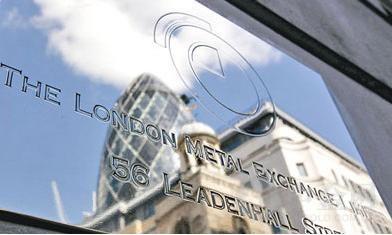 【Latest market】
● LME electronic plate copper 6680.5 down 234.5, aluminum 2091.5 down 22.5, zinc 3033.5 down 100.5, lead 2265.5 down 82, nickel 11505 down 680, tin 20550 down 205, aluminum alloy 1740 down 60.
● International gold 1338.65 down 7.92, silver 17.87 down 0.1, platinum 1002.25 down 5.73, palladium 936.51 rose 1.77.
● LME inventory copper 213175 by 2450 tons; aluminum stocks 1321500 by 125 tons; zinc stocks 241800 by 875 tons; lead inventory 164375 by 75 tons; nickel stocks 384978 by 828 tons; tin inventory 1915 by 25 tons.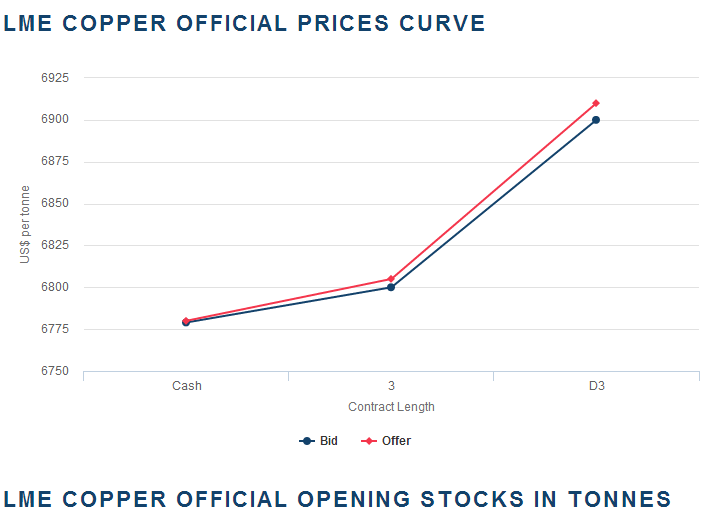 ● Shanghai Futures Exchange daily warehouse receipts copper 64352 by 506; aluminum 454611 by 6569; zinc 23345 by 547; lead 13275 minus 1457; tin 9107 by 42; nickel 55032 by 102.
[LME interpretation and today's forecast]
● Lun bronze early assessment: all-week non-ferrous metals fell sharply, copper fell 3.39 percent, reported 6680.5 US dollars. A substantial decline in weakening market sentiment, expected short-term will remain weak shock trend.
● Lun aluminum early assessment: crude oil weakened, across the board London metals fell across the board, London aluminum fell more than 1%, short-term material below the space is limited, high and volatile adjustment. Shanghai aluminum main decline is not only, look at 15,500 support
● Leng lead early assessment: the market profit due to the end of the outer disk metal generally lower, London lead fell sharply, late fall more than 3%, and in the average below the short-term trend will remain weak,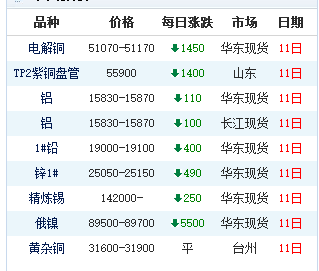 ● Lun zinc early assessment: Chibin zinc lower, the disk gradually approaching 3000 mark, fell 3.21%, the current point of view, there is still no stabilizing phenomenon, or below the risk of three thousand mark, expected this Shanghai zinc fell
● Lunxi early assessment: market panic accumulation, investors profit-taking, every week across the board metal fell, Lennon fell 0.99%, compared with other metals defensive, but by the surrounding atmosphere dragged, short-term weakness
● London nickel early assessment: last Friday London base metals fell across the board, which fell 5.58% nickel. Heavy volume fell so that the upward trend began to go bad, short-term rise or come to an end, the recent trend to adjust the main.
【Industry Interpretation】
● Canada found high grade copper and cobalt gold mine
Blackstone Minerals announced that it had a mineralized, cobalt grade of up to 5%, gold up to 137 g / t and copper 3.2% in a sample analysis of the Little Gem copper project in British Columbia, Canada. The surface rock samples were found to have a high grade gold mineralization called Roxey. From small stones to Rocky along the direction of 1.5 km long, gold grade 24 g / t, copper 1.9%.
[Financial Express]
Dow Jones Industrial Average rose 217 points, Nasdaq 6360.19 fell 37.68, CRB index 411.34 fell 0.03, the dollar index 91.47 rose 0.15, the euro / dollar 1.2014 fell 0.0021, the dollar / yen 108.25 rose 0.42, US crude oil 47.67 rose 0.11.
【Finance】
● London World Metal Center position to shake LME to cut fees to save the transaction volume
More and more banks and funds launched metal trading, coupled with investors flock to CME and other competitors, LME had to take measures to restore the transaction volume. LME will cut the cost of short-term trading on 1 October and seek to charge the investment bank to use LME.