Industry News
Why choose brass pipe fittings for drinking water pipelines?
Views: 1340 Update Date:Dec 19 , 2018
Do you want to replace the old pipe fittings with advanced and durable one? For plumbers and even for professionals in oil & gas and different other industry vertical, different types of fitting solutions required to streamline the process. For this, searching for the best and strong fittings is important to secure joints working well.
Brass is synonyms with durability and reliability as the strong metal that is the basic need of a plumbing system for long service life.
Brass pipe fittings
offer you advanced that is an excellent choice as they remain in great condition for years without cracking or disintegrating.
Brass pipe fittings are one of them that are required to streamline the flow process and keep joints stay secure. Brass fittings are more malleable than steel or iron. It is easier to bend, shape or mold brass fittings than those made from most metals. This makes it easier to undertake plumbing works. Installations costs are kept low because of the ease involved.
Using brass pipe fittings for drinking water pipelines or flow is beneficial in a number of ways – mainly because lead cannot be allowed to reach into drinking water. Brass is an older and much preferred option – commonly used for such fitting.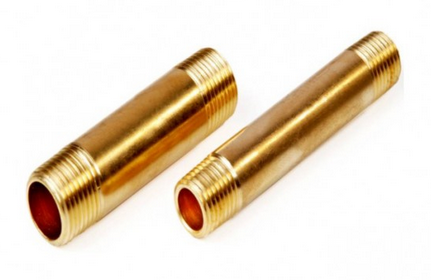 Brass Pipe Fittings for Durable and Strong Joint
Brass is counted as the best fitting material that is ideal for hot water distribution. It provides exceptional conductivity of temperature and improves hot water distribution system efficiency. In addition to this, brass is also supple in high temperature that can withstand much higher temperatures in comparison to other options.
Flexibility and versatility are two key features of
brass pipe fittings
that are making them ideal to use and providing a gamut of added features. They are available in a wide range of shape, widths and sizes with fittings available to allow you to alter pipe size.
Brass pipe fittings are the blend of zinc and copper alloy that is counted as the best source of ensuring durable pipe fittings and fixtures from homes to large industrial complexes. Not to mention the use for safe, durable components to your plumbing system.