Brass Barb Fittings
Product Details
connector brass hose fittings

Klikkon specialized in producing all kinds of brass fittings,brasss hose fittings,brass swivel fittings,brass tube fittings.
See more specifications below
British Connections British Standard Pipe (BSP)
This BSPT (tapered) connection is similar to the NPT, except that the thread pitches are different in most sizes, and the thread form and O.D.s are close but not the same. Sealing is accomplished by thread distortion. A thread sealant is recommended.
AIRBRAKE FITTINGS
AIRBRAKE FITTINGS are manufactured specifically for use in truck and trailer air braking systems. These easy to assemble fittings can also be used in secondary air systems where D.O.T approved fittings are required. NTA Airbrake Fittings are available in 1/4" to 1/2'' NPT Pipe Threads and 1/4" to 5/8" tubing sizes. ADVANTAGES Easy to assemble with no tube preparation or bending required. NTA Airbrake Fittings have a built in tube support and can be assembled and disassembled many times. APPLICATIONS These fittings are designed specifically for use in Truck and Trailer air braking systems except where temperatures exceed 200 degrees fahrenheit or where battery acid can drip on to the tubing. WORKING PRESSURE Up to 150 P.S.I FITTING SPECIFICATIONS NTA Airbrake Fittings are manufactured to meet D.O.T FMVSS 571.106 airbrake specifications. TUBING SPECIFICATIONS NTA Airbrake Fittings meet the functional requirements of the SAE automotive fitting standards: SAE J246 and SAE J1131. Use with SAE Type A and B Nylon Airbrake Tubing, ASSEMBLY 1. Slide the nut and then the sleeve over the tubing 2. Push the tubing into the fitting until the tubing bottoms out in the fitting 3. Then slide the olive and nut down onto the fitting and tighten the nut to the correct torque as per the table below NTA AIRBRAKE FITTINGS The information contained herein is produced in good faith and is believed to be reliable but is for guidance only. Agents cannot assume liability or responsibility for results obtained in the use of its products by persons whose methods are outside or beyond our control. It is the users responsibility to determine the suitability of any of the products and methods of use or preparation prior to use mentioned in out literature and furthermore the users responsibility to observe and adopt such precautions as may be advisable for the protection of personnel and property in the handling and use of any of our products. TUBE SIZE O.D TORQUE ft. lbs 1/4
85 – 115in. lbs 3/8 12 – 17 ft. lbs 1/2 25 – 33 ft. lbs 5/8 26 – 35 ft. lbs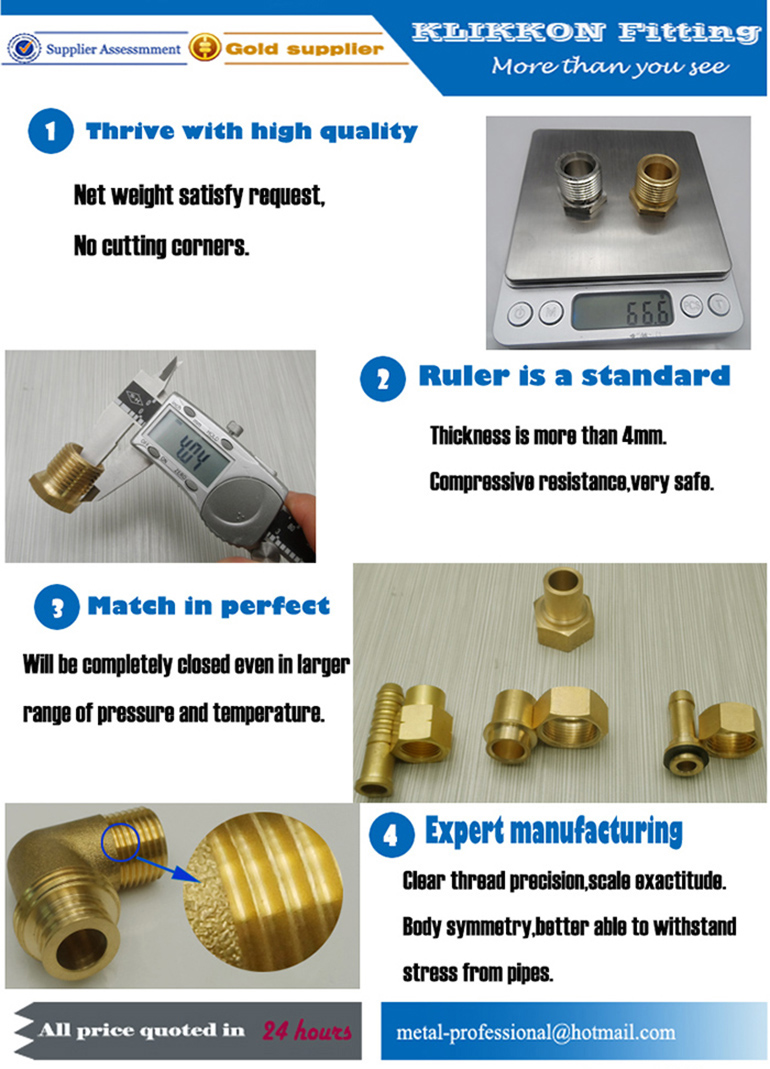 FAQ:


Q1. Can I have a sample to check if it is applicable and its quality before I place the order?
A: Yes, you can have a sample, and there will be a sample charge. It will be delivered by express company and will arrive in 3-5 days
If the order is confirmed, we will charge the sample for free.

Q2. Can you help to design when there is only sketch of drawing?
A: Yes, please provide us the requirement of design, we will design the rest of parts, ODM is available

Q3. Is there any MOQ of order?
A: Yes, there is MOQ of requirement. And we also accept the any quantity of order, but price of order reaching MOQ is much preferential.